or: How to Salvage a McKean PS-1 Kit and Create a Cool New England Boxcar
This latest project originated from an evening bout of model train show withdrawal symptoms, as the lack of flea markets and swap meets during the pandemic restrictions caused me to review my boxes of surplus models. There I re-discovered all the old McKean and Front Range rolling stock kits that I've been offering for sale over several years worth of Kitchener Train Shows.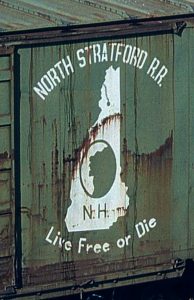 Looking over these kits my mind began to meander and imagineer various modelling possibilities, somehow wandering back to the late 1980s where I recalled seeing North Stratford RR boxcars rolling though southern Ontario. They were curiosities back then, not only because they were probably the last 40-foot boxcars still in interchange service, but from their bold logo and distinctive 'Live Free or Die' slogans (the state motto of New Hampshire). But then I remembered the kitbashing involved to get these kits up to modern modelling standards, and reasoned there must be some manufacturer out there that produced a good ready-to-run North Stratford RR boxcar.
Well a quick internet search found there were none, but there were decals available for the project. That caused more research on the real North Stratford Railroad, and whether the WRMRC's CP Sudbury Division layout could see any of their boxcars. The short answer was yes, which caused me to pull an 8-foot door undec McKean kit from the surplus box, followed by an online decal purchase. The kitbash was on.
A brief history of the North Stratford Railroad can be found on their Wikipedia entry, and a Google search will provide you with plenty of information if you wish to learn more. From this research, for the purposes of club operating sessions, it was plausible that NSRC boxcars could be hauling furniture from the former Ethan Allen furniture factory in Beecher Falls VT to the greater Chicago area over the CP Sudbury Division. CP trains 911/912 captured a lot of New England – Chicago bridge traffic through the 1970s, as shippers used whatever means possible to avoid the lengthy transit times caused by the Penn Central merger mess.
I've written before about my old kit salvage jobs, specifically here and here. Basically my goal is not to create a contest model, but to make a reasonable representation utilizing the many boxes of spare parts I've accumulated over the years. The challenge is to create a boxcar that will not melt if coupled between a Kadee and Tangent model, and not to spend any extra money aside from decals and maybe paint.
Before you copy my work, please note there was a mistake made because I began kitbashing the car before thoroughly researching the prototype. Bashing enough of their kits over the years, I habitually began by adding the roof walk supports that McKean inadvertently missed on their model. This was done using .060" styrene angle, chopped to the appropriate length, and glued on the roof rib peaks. After doing this I came across a good roof-view photo of an NSRC boxcar, and discovered the roof had been completely rebuilt with no roof-walk supports. It turns out their entire fleet of 100 reconditioned 40-foot boxcars had rebuilt roofs. So I actually went out of my way to goof this boxcar up. Oh well, good thing this isn't a contest model.
As for the other details utilized, most came from my collection of left-over parts from old Intermountain, Branchline and Proto-2000 models purchased over the years. The ladders, grab irons, and tack boards were all surplus left-overs from those kits. The 8-foot Superior doors were excess parts from a Sylvan Scale Models double-door boxcar kit. I never throw any good spare detail parts away. Additionally there were some wire 18" drop grab irons on the car ends, and a a wire corner-grab on the roof utilized also. I often re-bend staples to create new metal stirrups on my kitbash projects, but went the easy route and used A Line Products stirrups on this one.
They might have been good for their time, but the underbody on these McKean kits needs a lot of work too. First I body-mount scale #158 Kadee couplers in their own boxes (nothing works better than a Kadee in it's own box), which requires you to remove the molded-on McKean coupler housings. Doing so will expose a square hole which needs to be filled with styrene. After that's plugged you can drill and tap a #2-56 screw to mount the replacement Kadee coupler boxes.
Though the underframe brake rods look complicated, they are actually very easy to add. The hard work was cutting away most of the old McKean details in order to add them. Once that was all done and cleaned, I installed an Accurail one-piece underframe brake rod set which gives your model the appearance of having a super-detailed underbody with minimal effort. To finish, I installed a set of 50-ton roller bearing trucks equipped with Intermountain 33" wheels. All the NSRC 40-foot PS-1 boxcars rode on these style trucks.
In order to blend together all the different coloured detail parts before paining, the model was first primed with light grey Tamiya Fine Surface Primer.  Yes, right from a rattle can, and you get a wonderful finish. I then looked for whatever green the WRMRC paint collection had that best matched these NSRC boxcars. Photos show a dark green / bluish colour when new, fading to a lighter, truer green as they aged. Needing to replicate a nearly new car I chose PolyScale F414188 CNW Green, unfortunately now long out of production. If you need help, I'm certain the CNW modellers know of a good replacement paint match. I then sprayed Tamiya clear gloss coat, as PolyScale paint is flat and a gloss finish helps with decal adherence.
As noted earlier, an online search turned up the appropriate NSRC decals from K4 Decals. They are well-printed, good quality decals, fairly easy to work with, and yield excellent results as you can see from the photos. K4 were a new supplier for me, but I'll definitely buy again from them when the need arises.
However there were some minor miscellaneous odds and ends I needed to add that were not supplied by the K4 sheet. Specifically the near-microscopic bank trust stencil lettering found on the top left of the car, along with the tiny 'Retaining Valve' and 'Defect Card Holder' stencils along the bottom side-sill of the boxcar. For that I used some Microscale decals I had in my collection to replicate those. For the bank trust lettering I used some N-scale tank car decals I purchased specifically for cases like this. If anyone is able to read them directly off my model with the unaided eye, I'll buy you a coffee.
I probably over-weathered this model considering it should still be shiny after it's rebuilding in 1979, but it just didn't look right mixed with all the other really grunged-up rolling stock on the club layout. So I airbrushed a light coat of grime along the underbody, and added some dark grungy weathering powder along the roof eaves along with some running down from the door guides. A clear flat coat was then applied to protect the weathering. Combined with the original base gloss finish the model still has a bit of a shine to it, so I'm happy with the over-all result.
In closing, I just wish to reiterate that this kit was up for sale for $5 at the WRMRC table over several Kitchener Train Shows, along with a lot of other surplus 'fleas.' For all the complaints on model train forums about the high cost of our hobby, here is proof that if you have the time and are low on cash, you can create quality models while on a budget. You also get the added satisfaction of owning something unique. Personally, I get a kick out of re-creating something I've seen in the past, and the research and efforts towards that goal are what make the hobby rewarding. I hope this story inspires others to dig around in future train shows, and look beyond the latest ready-to-run models.